Magical fairies are cherished by adults and children alike. We have found a selection of the most enchanting fairy jigsaw puzzles, ready for you to piece the magic together.
Fairies
The origins of Fairy folklore date all the way back to the 12th century from writings by Gervase of Tilbury, an English scholar and canon lawyer.  Interest in fairies greatly increased during the Victorian era.  Fairies have often been used in art and were painted by famous artists such as Joseph Noel Paton, Edwin Landseer and they even influenced the Pre-Raphelite Brotherhood.  They also have a part to play in literature, and not just fairy tales, from William Shakespeare's "A Midsummer Night's Dream" to James. M. Barrie's "Peter Pan".
It is hardly surprising that we still appreciate these beautiful magical beings when we have grown up.  Fairies have an important role to play in our childhood, from the tooth fairy who visits in the night whilst we sleep and exchanges a treat for one of our fallen milk teeth, to the fairy who sits on top of the Christmas tree.
Fairy Jigsaw Puzzles For Adults (and older children)
Faerie Dell
RRP: £19.99
Pieces: 500
Age: 9-adult
Brand: The House of Puzzles
Product Code: 38984785
Buy in the UK: Amazon

Review
Faerie magic comes to life in this puzzle.  We had great fun puzzling together this jigsaw with our 9 year old daughter.  The image has a traditional tone with a joyous essence that is uplifting on the most rainy of days.  
Realm of Enchantment – Super 3D Puzzle
RRP: £14.99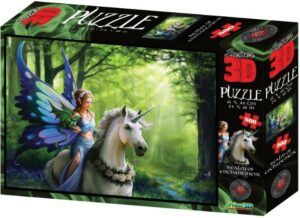 Pieces: 500
Age: 10-adult
Brand: Anne Stokes
Product Code: AS10095
Buy in the UK: Amazon
Buy in the US: Amazon

Review
The queen of fantasy art, Anne Stokes entrances us with her work again with this stunning fairy riding her unicorn accompanied by a baby dragon.  This image is part of Anne's "Fae Fairies" collection.  Ann's fairies are from the sweet and coy traditional images we are used to, she portrays as strong independent characters that are in charge of their destiny.  The puzzle is in 3D lenticular printing, bringing it to life.  Completed puzzle dimensions 61 x 46 cm approx.
The Fairy of the Tides
RRP: £14.99
Pieces: 1000
Brand: Ravensburger
Product Code: 19595
EAN: 4005556195954
Buy in the UK: Amazon

Review
Beautiful and colourful design by artist Nadia Strelkina as part of the Fairyworld collection.  Good quality as usual by Ravensburger.  Quite challenging but there are few open spaces in the design which helps.  The finished design measures 69.9 x 49.7 cm approx.
Fairy Jigsaw Puzzles For Children
Fairy Palace – Magic Puzzle
RRP: £10.00
Pieces: 50
Age: 4-6 years
Brand: Galt
Product Code: 1003847
EAN: 5011979552617
Buy in the UK: Amazon
Buy in the US: Amazon
Review
Very cute puzzle for younger children with an added fun factor.  The puzzle has 15 magic patch pieces, rub these pieces to discover what is hidden underneath.  Great gimmick but a real winner with children, it is just magic for them.  Puzzle is great quality and the cardboard is thick, great for young children.
Disney Fairies
RRP: £9.99
Pieces: 100
Age: 6-8 years
Brand: Ravensburger
Product Code: 4005556109722 109722

Buy in the UK: Amazon
Buy in the US: Amazon

Review
Bright and beautiful Disney magic is sure to brighten any child's day.  Tinkerbell and her friends come together in this bright and enchanting puzzle.  Made by Ravensburger ensures consistent quality assurance.  Ideal stocking filler or gift.
Magical Fairies
RRP: £12.99
Pieces: 150
Age: 6-8 years
Brand: Jaques London
Product Code: 89516
Buy in the UK: Amazon  (available in 50 piece size puzzle too)
Review
High quality bright and colourful jigsaw incorporating fairies, elves, unicorns, fairy cottages, rainbow and more young imaginative minds.  Artwork is by Kate Brazier.

Fairy In The Enchanted Forest
RRP: £8.99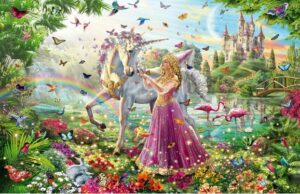 Pieces: 200
Age: 8-10 years
Brand: Schmidt
Product Code: 4001504561970
Buy in the UK: Amazon
Buy in the US: Amazon

Review
A delightful jigsaw with the added magic of the fairy princess's unicorn and enchanted castle.  Busy design with lots of colour to piece together, which helps to make it easier for younger puzzlers.  The jigsaw is made of cardboard and the completed puzzle dimensions are 43.21 x 29.11 x 0.51 cm approx.  This makes a wonderful stocking filler or birthday party gift.

All sizes are approximate.
For our full list of Fantasy Puzzles and reviews please click here.
Thank you for reading our blog, we hope you have found it helpful!