Pieces: 1000
RRP: UK £13.99 / US $ varies
Age: Adult
Brand:  Gibsons
Material:  Recycled Cardboard
Product Code: GIBG6289
EAN:  5012269062892
Completed Puzzle Dimensions:  68 x 49cm (26.8 x 19.3 inches)
Box size:  24cm x 6cm x 24cm (9.45 x 2.36 x 9.45 inches)
Released:  2019
Buy in the UK:  Amazon
Buy in the US:  Amazon
Click here to view Castle Cutaway Puzzle Time Lapse
Review – Castle Cutaway Puzzle
Travel back to a time of Kings, Queens and heroic knights and take a peek inside a royal medieval castle when you piece together this glorious puzzle.  Fantastic artwork by Steve Crisp with a bright colour pallet that really brings the castle to life.  We had so much fun piecing this puzzle together, see our tips later in the article.
Gibsons Castle Cutaway is packed with detail exploring all the workings of medieval castle life, from a dark dungeon to a grand banquet, from soldiers on the lookout in the battlements to a lively medieval dance, so much is happening in the 14 illustrated rooms.  We can also see 2 spiral staircases and a heroic knight riding on his stallion on the drawbridge.  Everytime I look at this puzzle I spot something I had not noticed before.  This castle is definitely fit for a king (or Queen).
The puzzle comes with a printed image inside the box to aid completing the puzzle.
I would rate Castle Cutaway as a medium to hard puzzle (based on the piece number).  
The puzzle comes in a sturdy compact box and is made from 100% recycled cardboard to make it more environmentally friendly and also avoids using plastic shrink-wrap.
Superb quality puzzle by Gibsons.  Pieces are thick and fit together perfectly.  
Designed and printed in the UK.  Made in the Netherlands.
Outstanding external customer reviews, customers were very pleased with the quality and design..
Puzzles Please's Verdict
5 / 5
Have some medieval fun piecing this puzzle together and exploring the castle.  Highly recommended by us.
Piecing the Puzzle Together
You can watch our complete puzzle time lapse by clicking here
Here are our tips on how we completed the puzzle.  There is no right or wrong way to puzzle, it's all about enjoying yourself!
We started off by turning all the pieces face up and then sorting them by colour and edge pieces.  We separated all the edge pieces, blue pieces, green pieces, castle brickwork pieces and put what was left into a large pile together.
Next we moved on to putting the edge together,  We had missed a few edge pieces when separating them, but don't worry we discovered these later.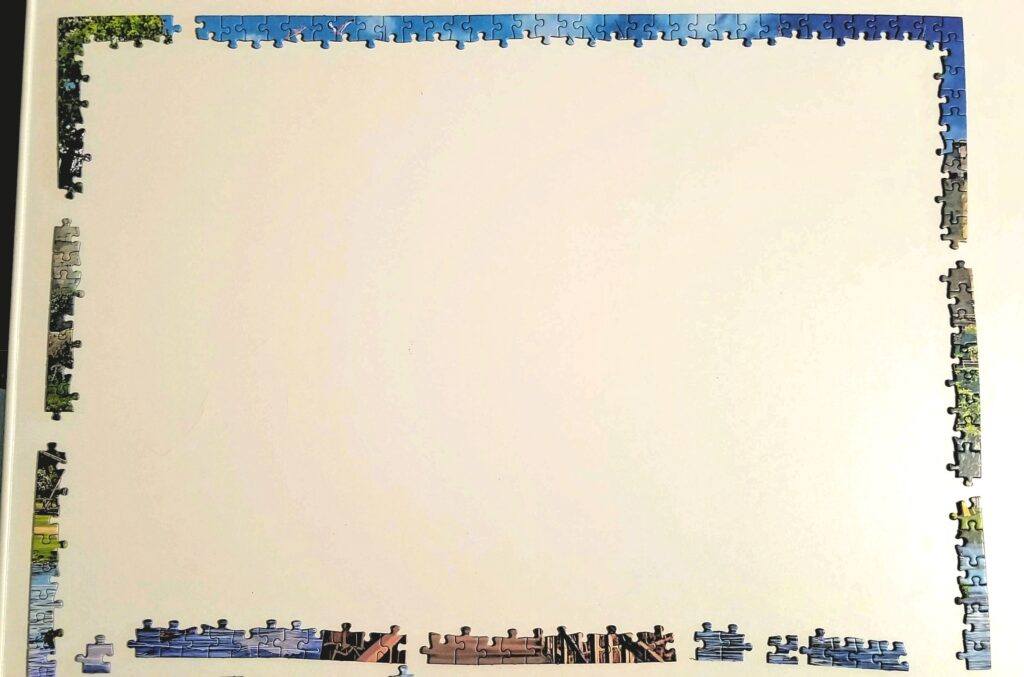 We then fitted the green shaded pieces into the puzzle.
Then it was time for the blue (this was quite challenging).  We further separated the blue into water pieces and sky.  The water pieces were identifiable by the stripes running across them.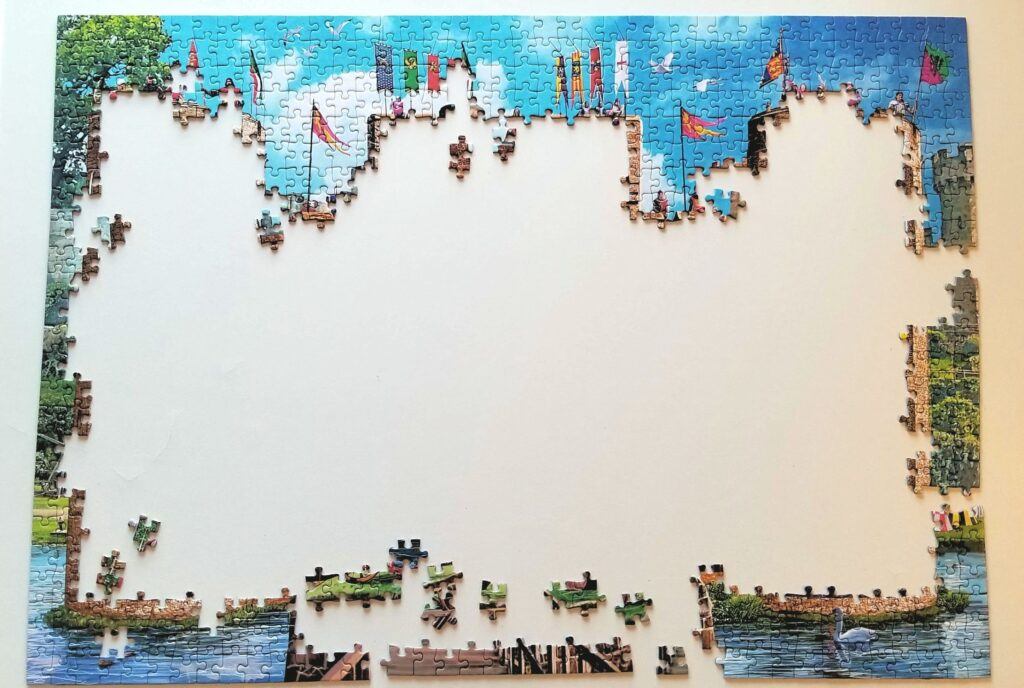 It was time for the mixed pile.  We further sorted these pieces by room and then pieced them together into the puzzle according to where the room was.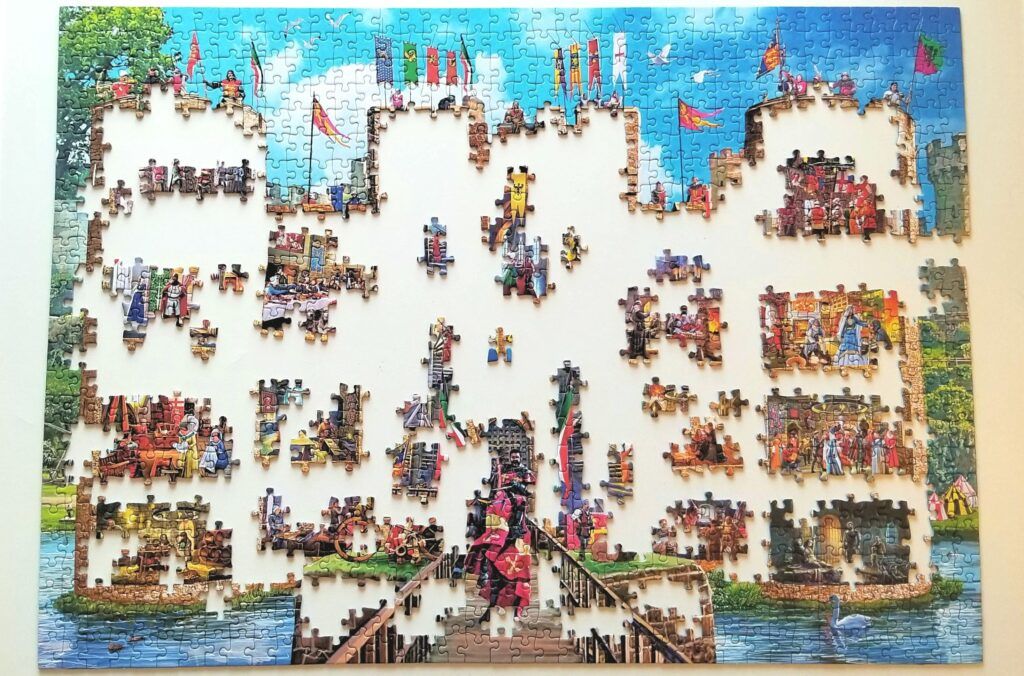 Then came the castle walls and anything left over.  We found this the most challenging section of the puzzle.  
Tip – a lot of the castle wall pieces also contain snippets of colour from the rooms, as we had already fitted the rooms together we could match a lot of pieces by the colour.  As we came to the end we further sorted the remaining pieces by shape and…….Woohoo, time to explore our medieval castle!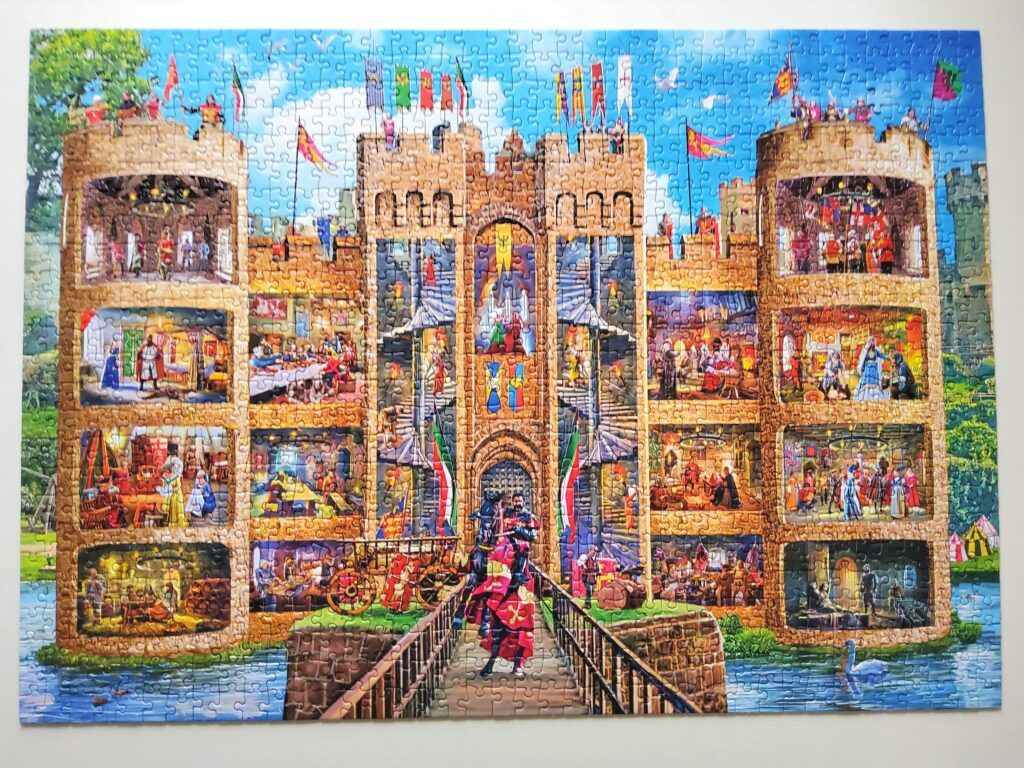 All sizes and prices are approximate.