Ravensburger Busy Train Station Puzzle 2 x 24 Pieces
Pieces: 2 x 24
Amazon RRP: UK 11.99 / US $14.99
Age: 4-6 years
Brand: Ravensburger
Material: Cardboard
Product Code: 91911
Completed Puzzle Dimensions: 26 x 18 cm  (10.2 x 7.1 inches)
Box size: 27 x 19 x 4 cm (10.6 x 7.5 x 1.6 inches)
Released:  2013
Buy in the UK:  Amazon
Buy in the US:  Amazon
Review – Busy Train Station
This super Ravensburger product doesn't come with just one but two very well illustrated puzzles of train scenes packed with action. The first shows a station with lots of varying passenger trains and bustling platforms full of people waiting for or boarding their trains. The second flips to the freight side of rail with diesel trains loaded with goods (images are at the bottom the page)
At 24 pieces per puzzle and the very fun nature of the illustrations, they should really appeal to those little ones who love their trains and are ready to take the next step in making puzzles.
As you'd expect from Ravensburger, external reviews are exceptional with quality, value for money and fun factor really standing out.
Puzzles Please's Verdict
5 / 5
Packed with fun, the little ones should really enjoy putting these together.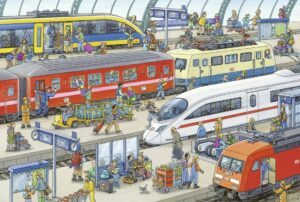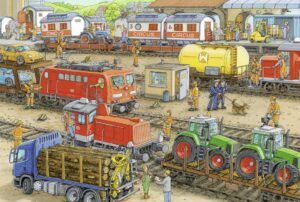 All sizes and prices are approximate.